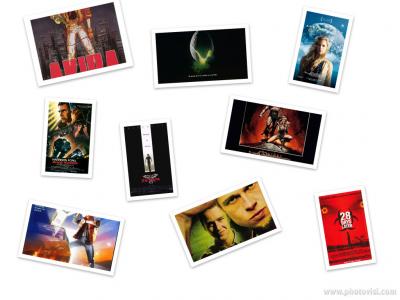 This list of films is compiled from responses to the thread on our facebook page, plus those suggested by guests on our NerdVsWorld show.
Basically we had to suggest 5 films off the top of our heads that we thought everyone needed to see.
I've removed any duplicates but added the number of times each one has been voted for.
I'll be updating it as and when new films are added.
Please feel free to add your own 5 films in the comments at the bottom and I'll add them to the list
| | |
| --- | --- |
| Film | |
| Alien | 5 |
| Blade Runner | 4 |
| Fight Club | 3 |
| The Empire Strikes Back | 3 |
| Akira | 2 |
| Back to the Future | 2 |
| Bill & Ted's Excellent Adventure | 2 |
| Conan the Barbarian | 2 |
| Fifth Element | 2 |
| Galaxy Quest | 2 |
| Goonies | 2 |
| Grosse Pointe Blank | 2 |
| Jaws | 2 |
| Labyrinth | 2 |
| Once Upon A Time In The West | 2 |
| The Crow | 2 |
| The Shawshank Redemption | 2 |
| The Shining | 2 |
| Weird Science | 2 |
| 2001 | 1 |
| 28 Days Later | 1 |
| A Matter of Life and Death | 1 |
| Aliens | 1 |
| Amadeus | 1 |
| Another Earth | 1 |
| Apocalypse Now | 1 |
| Bambi | 1 |
| Batman Begins | 1 |
| Bitter Ruin Documentary | 1 |
| Breakfast Club | 1 |
| Chasing Amy | 1 |
| Children of Men | 1 |
| City of Lost Children | 1 |
| Dark City | 1 |
| Dead Man | 1 |
| Dog Day Afternoon | 1 |
| Dogma | 1 |
| Dogtown and Z-boys | 1 |
| Double Indemnity | 1 |
| Downfall | 1 |
| Dune | 1 |
| Edward Scissorhands | 1 |
| Empire Records | 1 |
| Eraserhead | 1 |
| Flight of Dragons | 1 |
| Forbidden Planet | 1 |
| Freaks (1932) | 1 |
| Garden State | 1 |
| Ghost in the Shell | 1 |
| Give 'em Hell Malone | 1 |
| Goodfellas | 1 |
| Gran Torino | 1 |
| Gremlins 2 | 1 |
| Hanna | 1 |
| Harry Potter and the Prisoner of Azkaban | 1 |
| HEAT | 1 |
| Heathers | 1 |
| High Fidelity | 1 |
| Highlander | 1 |
| Ink | 1 |
| IP Man | 1 |
| It's a Wonderful life | 1 |
| Jason and the Argonauts (1963) | 1 |
| John Carter | 1 |
| Kill Bill | 1 |
| Krull | 1 |
| L'Interieur | 1 |
| La Haine | 1 |
| Lost Boys | 1 |
| Lost in Translation | 1 |
| Man Bites Dog | 1 |
| Metropolis (1927) | 1 |
| Micmacs | 1 |
| Monsters | 1 |
| Moon | 1 |
| Naked Lunch | 1 |
| Night of the Demon (1957) | 1 |
| Once Were Warriors | 1 |
| Pitch Black | 1 |
| Predator | 1 |
| Pulp Fiction | 1 |
| Quatermass and the Pit | 1 |
| Raging Bull | 1 |
| Raising Arizona | 1 |
| Ravenous | 1 |
| Real Genius | 1 |
| Reality Bites | 1 |
| Schindler's List | 1 |
| Serenity | 1 |
| Seven Samurai | 1 |
| Sideways | 1 |
| Silence of the lambs | 1 |
| Sound City | 1 |
| Soylent Green | 1 |
| Star Wars Episode IV | 1 |
| Stardust | 1 |
| Starship Troopers | 1 |
| Suckerpunch | 1 |
| Taxi Driver | 1 |
| Terminator 2 | 1 |
| The Apartment | 1 |
| The Dark Knight Rises | 1 |
| The Descent | 1 |
| The Fall | 1 |
| The Fifth Element | 1 |
| The Godfather | 1 |
| The Good, The Bad and The Ugly | 1 |
| The Haunting (1963) | 1 |
| The Hobbit: An Unexpected Journey | 1 |
| The Imaginarium of Doctor Parnassus | 1 |
| The Muppet Movie | 1 |
| The Nightmare Before Christmas | 1 |
| The Omen | 1 |
| The Pianist | 1 |
| The Princess Bride | 1 |
| The Terminator | 1 |
| The Texas Chainsaw Massacre | 1 |
| There will be Blood | 1 |
| This is Spinal Tap | 1 |
| Top Gun | 1 |
| Total Recall (1990) | 1 |
| Tyrannosaur | 1 |
| V For Vendetta | 1 |
| Waynes World | 1 |
| Who Framed Roger Rabbit | 1 |
| Withnail & I | 1 |
| Young Frankenstein | 1 |
| Young Guns 2 | 1 |
| Zipang | 1 |