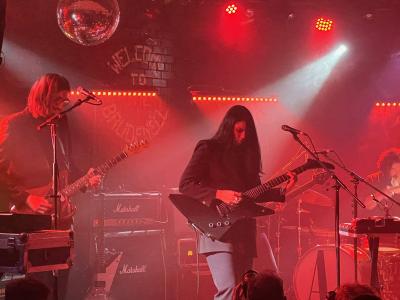 And so it was that on a grisly, dark Sunday evening in Leeds that the latest tour of the phenomenal A.A. Williams kicked off. Despite the grim weather, a decent crowd turned out to the Brudenell and were rewarded with an awesome evening of music.
Opening up the evening, Karin Park brought her own impressive brand of electro-goth stylings. Having seen Karin play before with Arabröt, I knew she was a talented musician, but experiencing her solo work was a completely different beast. Effortlessly navigating the myriad devices encircling her onstage, she produced an intricately crafted musical experience crowned with vocals that sound like someone has genetically spliced Tori Amos with Björk and cranked it up to 11.
After a brief change around of gear, A. A. Williams took to the stage. Having caught her set earlier in the year at ArcTanGent festival, I was keen to see how her performance would translate to a smaller venue. I was not disappointed. Backed by a talented crew of musicians, Matthew de Burgh Daly of maybeshewill on keys, guitar and backing vocals, Thomas Williams on bass and Wayne Proctor on drums, this was an incredible showcase of earlier material and tracks from her latest release, As The Moon Rests.
Highlights of the evening for me included a rendition of Golden that had me queuing to buy the album as soon as poor Tom could make his way from the stage to the merch desk post-gig. If you're after an incredible evening of well crafted, beautiful and soulful music then you really should try and catch A. A. Williams during her current tour.
As The Moon Rests by A. A. Williams and Private Collection by Karin Park are available to buy or stream now.