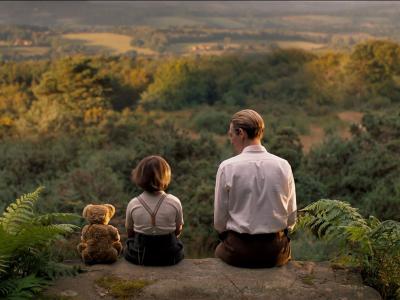 This film caught my eye upon first viewing the trailer. Having enjoyed biopics/semi-biographical films such as Creation (Charles Darwin), Finding Neverland (J M Barrie), and Black Mass (Whitey Bulger), the idea of a human story behind one of the most beloved childhood stories seemed a sure bet. What I experienced did not let down and whilst it was not perfect it was a warming, enjoyable, and emotionally engaging story.
We meet A. A. Milne post-world war one, despondent with the way people are acting as if nothing happened and sure of humanity repeating their mistakes. Through the struggles of family and the world, we experience the journeys of both Milne and his son Christopher which ultimately leads to the creation of the Winnie the Pooh stories. The principle characters are wonderful, engaging, and convincing from the start. From the troubled but good intentioned Alan Milne (Domhnall Gleeson, About Time), through the detestable Daphne de Selincourte (Margot Robbie, Suicide Squad), to the passionate and lost Christopher Robin (Alex Lawther) and his caring nanny Olive (Kelly Macdonald, Trainspotting). Performances from Robbie and Lawther demonstrate good range in comparison to prior roles and impressive abilities considering their age respectively. There is also a good use of music, or the lack thereof, to allow the focus to be placed on the dialog when necessary. Overall, the film does a really good job of making you care for Alan and Christopher in what is essentially a story about maturing through difficulty for them both.
It suffered, however, in one main way: pacing/editing. The story arches across Christopher's life from before birth to young adulthood and includes some rather abrupt transitions. It was as if good parts were written and stuck together to make a story as quickly as possible. This made it slightly difficult to engage with the final rendition of Christopher as we had not spent time seeing his development nor with the newer, older actor. Additionally, there were times when Olive had significant development with little to no warning.
Overall, it fell somewhere between good and great. Whether you love Winnie the Pooh or simply enjoy human stories you should watch this film for both its performances and story. I won't be rushing to see it again, but I am more than pleased that I made the effort to watch it at the cinema. 7.5/10