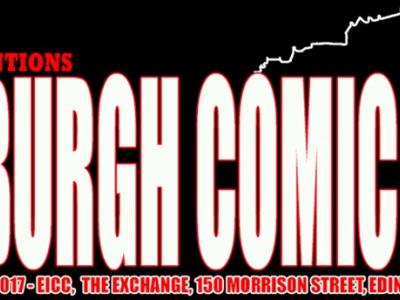 Hero Conventions' Edinburgh Comic Con was a first for me on two grounds. Firstly, it was my first ever con (or simply anything like it) and, secondly, it was my first time going anywhere with a press pass. I was both excited and nervous as well as slightly unsure what to expect on either account. One of the biggest things which struck me was the shear inclusivity of it all. There are certain stereotypes about gender which are totally smashed by the diversity of the attendees and that was utterly wonderful to see (though, I suppose a little saddening that I found that note-worthy!). Overall, it was a thoroughly enjoyable experience which has sparked my interest in conventions and as such I'm hoping to go to many more in the future! But enough about me, let's talk about EdiCon.
Firstly, venue and location. The venue was only a 10-minute walk from Haymarket station which was great. Haymarket is a well-connected station and being within walking distance was super convenient. It was helped a lot by the streams of colourful, foam weapon-wielding people as well. The venue itself was very suitable for the event and had ample disabled access which was great. It consistent of two main rooms with a wide connecting corridor. All the attractions and stalls had ample space such that, even when amidst the crowds, you still had room to move quite freely. We were informed that, after 3 years, the con had grown to include the second room and, whilst space was used well, if they continue to grow again it may become far more cluttered. Facilities were on point. There were ample numbers of toilets scattered around the venue (no queues, even for the lady's'!). What's more, there were 3-4 refreshment stands across all parts of the venue with free iced water plus a decent range of drinks as well as breakfast and lunch menus. Food was at roughly Pret standards (price as well). The only let down for the venue was the panel room. It was partly-isolated, side-room to one of the main ones and was rather long and thin. It left some of the late comers spilling into the main room. Overall, a great venue and well utilised.
Next: stalls. My gosh were there a lot of stalls (whilst I realise that MCM London or San Diego Comic Con would create a vast shadow of this it was still rather a lot!). The stalls covered a large range of independent artists and publishers which was great to see. There was also a lot of individual's selling home-made memorabilia including knitted figures as well as the awesome Custom Cupcake Company. The range of independent stalls was impressive and I took great delight at looking at some of the original artwork. In addition to this great selection there was also a decent number of stands with the comics and merch you'd expect such as props, t-shirts, and funko pops. There was also a rather lovely full-size replica of Captain America's shield in metal which I had to restrain myself from buying (but have since acquired the plastic version). Overall, the stalls were extensive, impressive, and hosted by friendly and very approachable people.
Now, on to panels. There were 8 panels across the two days including talks on self-publishing, a preview screening of 'Shooting Clerks', and Hero Talks with three noted actors. I went to two of the latter and gathered quite a different experience from both. Firstly, Claudia Christian. Claudia is known for a variety of television, film, and video game roles but most notably her stint as Commander Susan Ivanova in Babylon 5. As expected, a large quantity of her panel was spent fielding questions about B5 but there were also some nice niche questions about her other work. The panel itself was very audience oriented which was nice but at times left a little dead air. Regarding Claudia herself, whilst some of her stories and insights were interesting, she came across quite abrasive at times. It felt as if she often avoided answering the questions and used them as an excuse to just talk about herself. Overall, not the most enjoyable panel but insightful none-the-less. In stark contrast, panel number two was with the wonderful Ian Beattie. Ian is noted for his roles in film and television but most prominently his recent 5-year role in Game of Thrones as Ser Meryn Trant. He was super friend, welcoming, and charismatic. He held down the occasional gaps in questions be sharing anecdotes from across his career with gusto and, overall, seemed like he was genuinely excited to not only be there but also have had the career he has. I had the utmost pleasure to meet him at his table afterwards and he had no issue with spending 30-minutes just chatting about GoT amongst other things. He was a truly nice and friendly human being.
Moving on from panels: cosplay competition. I was utterly blown away from the start at the dedication that people of all ages and genders put into costuming for this event. I knew cosplay was a thing but it was incredible. Before I had even put my bag down on day one, I met Hawkeye who had an amazing attention to detail in his costume (zoom in on the arrow head in the attached picture). Across the whole event, the cosplay was fantastic and I was particularly impressed by how receptive people are to the full range of standards: whether you have a store-bought, a quickly put together at home, or something you've spent a year on everybody loves it. The competition itself was fantastic fun and the standard was high. They split it into under 16s and adults which was good but could have gone further. Quite a few groups entered in the adult part and it feels difficult to compare an individual to a group. Also, all entrants were asked if they'd like to tell or show the judges anything but they were obviously not informed before-hand so there was some slightly awkward dead air at times. Overall, really good fun with a very high bar. I'm looking forward to joining in next time!
In addition to the expected stalls, panels, and cosplay, there was also a nice assortment of photo opportunities with, for example, star wars props, a Tardis, and E.T. There was also an entire section of table-top games including Magic the Gathering as well as 6 matches from the Scottish School of Wrestling. My only criticism at this point was the lack of interactive exhibits. You could easily see the entire convention, bar panels and cosplay competition, in an hour. This doesn't detract from it being a great experience and what was present being of a high standard. I am eagerly looking forward to next year's con and am already on the look-out for others in the area.