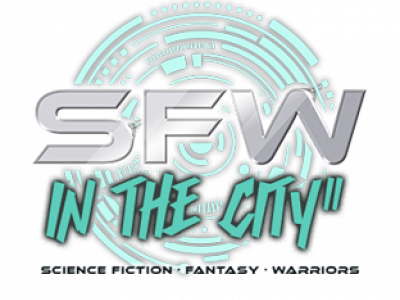 It's back for another round folks. Last year we had the pleasure of taking part in the first SFW in the City and it looks like we'll be back for more.
Stand by for action! Following the rip-roaring launch of SCI-FI IN THE CITY 2017, its second coming will descend upon the O2 Academy in Sheffield in October 2018, reborn as SFW IN THE CITY II: Sci-Fi – Fantasy – Warriors!
SFW IN THE CITY II will hit the City of Steel between Saturday 6th and Sunday 7th October, 2018 (Earth Time) with a special pre-party on Friday 5th. Come early for the pre-party, then enjoy our action-packed, three-zone, two-day event, with guests, panels, talks and signings during the day, not to mention cosplay, props, traders, comics, drones, and much much more! Plus (of course) a FULL EVENING of out-of-this world entertainment on Saturday night!
Among the headlining guests, you'll find:
Tim Rose - best known for playing Admiral "It's a Trap!" Ackbar in Return of the Jedi, Tim reprised the iconic Admiral in The Force Awakens and The Last Jedi. Rose also puppeteered Sy Snootles and Salacious Crumb in Return of the Jedi, and has worked on other magical Lucasfilm and Jim Henson Studios movies, including The Dark Crystal and Howard the Duck.
Garrick Hagon appeared in Star Wars: A New Hope as Luke's friend Biggs Darklighter. Garrick's film career includes: Tim Burton's Batman, Richard Attenborough's A Bridge Too Far, and many others. He's also appeared twice in Doctor Who, as the rebel Ky in 'The Mutants' (1972) and as Abraham in 'A Town Called Mercy' (2012). As a voice actor, Hagon has been heard in many films and TV series including the UK dub of Star Fleet/X-Bomber, The Secret of Mamo and Goodbye Lady Liberty, as well as Akira Kurosawa's legendary Ran.
Frazer Hines' big break came as Jamie McCrimmon in Doctor Who. He became a regular companion of the Second Doctor (played by Patrick Troughton, with whom Frazer became firm friends). The dashing Jamie's debut in The Highlanders actually inspired Diana Gabaldon's Outlander books, now a highly popular TV series (in which Frazer himself has appeared!)
Ryan Gage is best known for playing King Louis XIII in the The Musketeers and Ted Bundy in the TV film Serial Thriller: Angel of Decay. On the big screen, he played the Master of Laketown's cowardly deputy Alfrid Lickspittle in The Hobbit: The Desolation of Smaug and The Battle of the Five Armies. He played Ted Bundy again in the film Angel of Decay (earning Best Actor Award at the British Independent Film Festival in 2016). In video games, Gage portrayed Charibert in the Final Fantasy XIV expansion pack Heavensward.
Adam Brown played the dwarf Ori in Peter Jackson's blockbuster film trilogy The Hobbit, based on J. R. R. Tolkien's magical high fantasy; also Cremble in Pirates of the Caribbean: Dead Men Tell No Tales.
Nick Moran's first hit film appearance was alongside Roger Daltrey and Chesney Hawkes, in Buddy's Song (1990). In Lock, Stock, and Two Smoking Barrels (1998), he appeared with Sting, who played his father. In 2001, he played Aramis in The Musketeer. He also appeared as Scabior (a snatcher in Fenrir Greyback's gang, in Harry Potter and the Deathly Hallows – Parts 1 and 2).
Adrian Rawlins has appeared in several films including Wilbur Wants to Kill Himself and The Woman in Black, and is familiar to fantasy lovers as James Potter: father of the young hero of the Harry Potter films.
As well as our film and TV guests, we'll be showcasing artists who create amazing imagery for the sci-fi, fantasy and comic genres, such as Jeff Cummins, whose work you're probably familiar with from Radio Times as well as many Seventies album covers!
Jeff's fascination for all things 'media' began as a schoolboy in 1969, entering an art competition staged by UK TV show Magpie. He went on to work with Paul McCartney; also with Hipgnosis, visualising and illustrating for Pink Floyd, Led Zeppelin, Moody Blues and Peter Gabriel. In 1978, Target Books commissioned Jeff to provide cover illustrations for several of their Doctor Who novelisations, also their Doctor Who Discovers factual range. In the 1990s, Jeff's work also graced the covers of several Virgin range Doctor Who novels. Time to raid your bookshelves, Whovians!
N.B. MORE guests, artists, authors and other fascinating folks are yet to be announced, so keep watching the website for details!
There'll also be many other exciting activities. Here are just a few:
EZXP is a video game-inspired band making their debut at SFW IN THE CITY II 2018, taking the 8-bit tunes of our childhoods and turning them into rock to which to dance the night away. From Pokémon to Zelda, Mega Man to Star Fox, gamers are guaranteed to know these transmogrified tunes. Game on!
Pandemic Live: Four players battle 'the spirit of disease'. Played by guests and audience alike, lead by comedian James Cook, Pandemic Live is a live version of the wildly-popular board game Pandemic. After many attempts, the oft-extirpated group of epidemiologists have yet to triumph over the virulent illness. Perhaps this time, we CAN hold back the tide of plague.
Pop-Up Puppet Cinema: Welcome back to the crazy puppets from the popular Puppet Cinema, where Hollywood collides with Punch and Judy! That IS the way to do it! This time, with a new show: JAWS!
Blues Harvest: Blues Harvest have built up a cult following through their wide-ranging repertoire from movies and TV (plus a few guilty pleasures).  With set highlights including music from Star Wars, Back to the Future, Ghostbusters, Guardians of the Galaxy and many more, Blues Harvest is the perfect cantina band to celebrate the sci-fi, comics and fantasy genres.
Level Up Leroy: Our resident sci-fi nerd DJS has indeed levelled up this year, always pushing the final frontiers. Of his newest mix, Leroy proudly admits "This one's all nerd!" That's why everyone loves it!
Jedi Training: Back with the Battle Bot. The Bot is back - badder then ever. Will you pick up the lightsaber and face the challenge, or just watch as the Bot defeats your friends, one by one?
Saturday evening will also play host to the SFW Posse doing what they do best, in a carnival of costumes, music, and dancing. There'll also be speciality acts! Nowhere - repeat NOWHERE! - in Sheffield offers such entertainment on a Saturday night ! What's more, it's ALL included in the price of your ticket!  All you lucky ticketholders have to do is turn up, buy food and drinks, settle down, gear up, or party on, and ENJOY! Make it so!
Lock and load for SFW IN THE CITY II! And be quick on the drawer for special launch deals!
ATTENDANCE ONLY (NO HOTEL)
£25 (no booking fee) Standard pass for the full weekend.
£45 (no booking fee) VIP pass. Includes the full weekend, with Signing Pass* included.
£55 (no booking fee) Royalty Pass. Includes the full weekend, PLUS an exclusive personal Meet 'n' Greet with the guests on Saturday and Sunday mornings.
VIP and Royalty attendees also have access to the balcony area and a private bar.
*The Signing Pass entitles the holder to one autograph from each of the Media guests who are signing during the arranged signing sessions. Please note that this will include as many Media guests as can be accommodated, but might not be all of them. Information will be available closer to the event. Signing passes can also be purchased separately prior to the event.
HOTEL PACKAGE
We've also negotiated a stonking 30% off rooms at the Royalty Hotel. This includes 2 nights at the hotel, breakfast included. If you wish to take advantage of this offer, please discuss with the Chic Team: if you choose to take the offer up, a private link will be emailed to you.
All the deals include the Friday Night Pre-Party.
N.B. These special prices go on sale Tuesday 6th February at 12.00 GMT and will ONLY be available for SIX DAYS!
Contact Dan NOW on 0207 193 0490 to find out more and to book your tickets.
Booking is also available at https://www.sfwinthecity.com/tickets.html