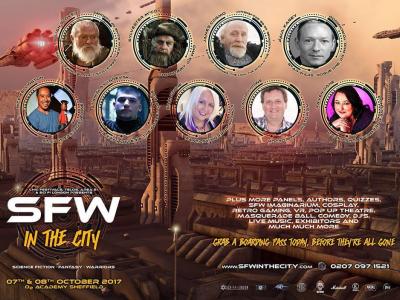 Only four months to go before the Chic Starship again touches down on UK soil on October 6 and 7 2017 at the O2 Academy in Sheffield with the biggest and brightest Science Fiction, Fantasy and Horror Spectacular ever to grace the city. Some details have already been announced, and now it's time to add to that, with a cavalcade of talent and excitement, all of which is waiting for the attendees of SFW IN THE CITY 2017!
There have already been announcements of the headline guests SYLVESTER McCOY (Saturday), JAMES COSMO (Saturday), NICK KELLINGTON (Sunday) and STANISLAV IANEVSKI (Sunday) … and now we can add to this three more top names:
JULIAN GLOVER's film roles have included a wide range of iconic characters, including General Maximilian Veers in The Empire Strikes Back, the James Bond villain Aristotle Kristatos in For Your Eyes Only, Walter Donovan in Indiana Jones and the Last Crusade, and Brian Harcourt-Smith in The Fourth Protocol. He also voiced the giant spider Aragog in Harry Potter and the Chamber of Secrets. With a career spanning over fifty years, he first appeared on television as Richard the Lionheart in Doctor Who – The Crusade (1965). Recently he played the recurring role of Grand Maester Pycelle in Game of Thrones from 2011 to 2016 and, in January 2013, appeared as General Beauvilliers in the BBC drama Spies of Warsaw. Julian is appearing at SFW IN THE CITY on Saturday.
PAUL KASEY has played the Cybercontroller, the Cyber Leader, Cybermen, a clockwork android, the Hoix, an Auton, a Slitheen, an Ood, the Anne-Droid and a member of the Forest of Cheem in Doctor Who, and Janet the Weevil, Alien Blowfish and a Hoix in Torchwood. He has also made many appearances in The Sarah Jane Adventures. He also appeared as a zombie in 28 Days Later and as Ello Asty in The Force Awakens and Admiral Raddus in Rogue One. Paul will be with us on Sunday.
AYSHEA BROUGH made her film debut in Tom Thumb (1958). At the age of sixteen, she signed her first recording contract with Philips Fontana and her first single 'Eeny Meeny' was released in 1965. As a singer she made many appearances and could be seen on numerous television promotional shows. In 1969, she presented her own pop show, initially called Lift Off, but renamed to Lift Off With Ayshea with series 4 in 1972. The series ran for five years and 144 episodes. Ayshea's other television appearances included an episode of Jason King (1971) and also a recurring role on Gerry Anderson's UFO series (1969 – 1971). She also made brief appearances in the films Gotcha (1985) and Demolition Man (1993). Ayshea performed live in cabaret worldwide, and represented the UK in the World Popular Music Competition in Tokyo, with a song written by Elton John, 'The Flowers Will Never Die'. She recorded and released two LPs, and made 14 single releases of her work. Ayshea joins us on Sunday.
In addition to the stunning media guests, there are also some top authors gracing us with their presence. SIMON CLARK (Saturday), STEPHEN LAWS (Saturday), BRYONY PIERCE (both days) and RAVEN DANE (Sunday).
SIMON CLARK is the author of many horror titles, including Nailed by the Heart, The Fall, London Under Midnight, The Night of the Triffids and His Vampyrrhic Bride. He also writes Survivors for audio and wrote prose material for the internationally famous rock band U2!  STEPHEN LAWS penned the novels Ghost Train, Spectre, The Frighteners, Somewhere South of Midnight and Ferocity among others and appeared as 'The Stranger' in the short film, The Secret, based on one of his own stories. BRYONY PIERCE is a YA author with many popular titles to her name, including Windrunner's Daughter, Phoenix Rising and Phoenix Burning, and Wavefunction. RAVEN DANE is an award-winning Steampunk author (the Cyrus Darian novels), who also dabbles in the worlds of vampires (the popular Legacy of the Dark Kind Series) and alternative history (Death's Dark Wings).
In addition, SAM STONE and DAVID J HOWE will be running AUTHOR CENTRAL all weekend, selling books and hosting signings. SAM STONE is the popular author of The Vampire Gene series of novels, and the Kat Lightfoot Novella series which kicked off with Zombies at Tiffany's. Her latest book is a collection of Lovecraft-inspired tales called Cthulhu And Other Monsters. DAVID J HOWE is a non-fiction writer with over 35 titles to his name, including the seminal work on Doctor Who: The Television Companion.
SFW wouldn't be complete without the comic creators who bring our nightmares to horrifying life, and for this event it is confirmed that MIKE COLLINS (both days) will be there!
MIKE COLLINS has been involved in comics since forever! In the mid to late 1980s, Mike wrote and drew strips for Marvel Comics UK, amongst them; Spider-Man, Transformers, Doctor Who, and Zoids. He also worked on 2000 AD drawing Judge Dredd, Sláine and Rogue Trooper, as well as writing various Future Shocks. Through the 1990s, he worked primarily for DC Comics on their key titles – Batman, Superman, Flash, Teen Titans, Wonder Woman, and the Justice League. Currently he is the artist (and sometime writer) on Doctor Who Magazine, Mike also wrote and drew a strip for the late, lamented Weekly World News, as well as co-creating the series American Gothic for 2000 AD. As well as comics work, Mike is a storyboard artist for Calon and Dinamo on children's TV shows, primarily the BAFTA winning Hana's Helpline, Igam Ogam and Cwm Teg. He has also worked on short live action movies, one of which, Day at the Beach, was BAFTA nominated in 2004. He also storyboarded the Warhammer 40,000 CG film UltraMarines, and also storyboards Doctor Who.
But enough about the guests, what else is happening? Well there is a packed programme of events over the Saturday and Sunday, with talks and signings, panels and discussions, quizzes and games … but the whole thing actually kicks off on Friday night, with a special FRIDAY FRIGHT NIGHT EVENING in the upper rooms at the O2 Academy. Here there will be DJ LEVEL UP LEROY spinning the decks into the early hours, as well as a special SCI FI QUIZ and KARAOKE guaranteed to get your brain cells buzzing and your vocal chords warmed up!
If you have not already booked accomm for Friday night and if you want to get in early for the FRIDAY FRIGHT NIGHT as well as being in town for the opening ceremony on Saturday morning when it kicks off at 10.00 am, and need an extra nights hotel, then give Bex a call on 0207 193 9564 and she will help you sort it!
Saturday then kicks off at 10am with guest presentations and features, including the popular RETRO GAMING AREA, Jedi Training, and presentations from the POP UP PUPPET THEATRE, and after the daytime celebrations, we have a special IMAGINARIUM presentation curated by the fine boys and girls at AREA 51, so expect dancing and spectacle, there's live music from DARTH ELVIS AND THE IMPERIALS and much, much more!
After all that excitement, we hope you have some energy left to dance into the night with LEVEL UP LEROY, again spinning the plates and making some noise for the SFW Crowd, and of course joined by the Area 51 Dancers! Plus a special VIP/ROYALTY/TROOPER meet on Saturday night … 
Sunday sees the popular COSPLAY COMPETITION, so please come adorned in your finest favourite comic, film, television, game, anime or just plain gonzo costumes. Following this, we present live on stage, from Knightmare Live creator Paul Flannery, the MMPORG SHOW … combining improvised comedy with table top gaming … For every choice a consequence … for every show a new quest … Success decided by a large D20 die … Will you be victorious? Will you bring harmony to the kingdom or will you betray your new friends for personal glory?  There's only one place to be to find out! Of course there's also a raft of talks and presentations taking place all day!
Finally, for those who just don't want the weekend to end, and who have some energy left, we have a special SFW IN THE CITY AFTER PARTY, again upstairs at the O2 Academy. More music and chilling and looking forward to the 2018 SciFi and Fantasy Weekender …
As with the Weekender, we intend to cram as much as we can into the programme, giving everyone as much opportunity as we can to meet our guests, chat, get autographs, and to pick up some exclusive goodies from the sales tables. There's food and drink available inside the Academy, and a host of dealers selling all the geekery you love to browse and buy … So there should be everything mentioned here, and much more besides!
It's going to be a total blast …
To get a sense of what it's all about:
The final boarding passes are now available from WWW.SFWINTHECITY.COM or phone Bex on 0207 193 9564