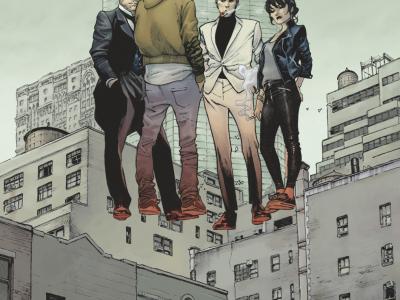 Netflix is adding another feather to its cap, its very own Comic Book.
Mark Millar today announced the name of the first franchise he will be working on, since Netflix bought out Millarworld back in the Summer.  Titled "The Magic Order" it will be the first comic book for Netflix, and the first new comic created by Millar since the Netflix acquisition.  
Described as "Magic meets the mob" it will be the story of "Five families of magicians sworn to protect our world for generations must battle an enemy who's picking them off one by one.  By day they live among us as our neighbors, friends and co-workers, but by night they are the sorcerers, magicians and wizards that protect us from the forces of darkness"    
Due for release in Spring 2018 in both print and digital formats, the six issue run will be written by Mark Millar, with the artwork being handled by Olivier Coipel (Thor, The Avengers, The Amazing Spiderman)
No word just yet on whether this will eventually be converted to a Netflix Original Film or TV Show but, with Disney pulling their titles from Netflix from 2019 to focus on their own Direct To Fan service, I certainly wouldn't rule it out.  What better way to fill the void left by one Comic Giant, than to try to become one yourself.
Get in touch on Twitter at NerdVsWorld and let us know what you think.